Briefing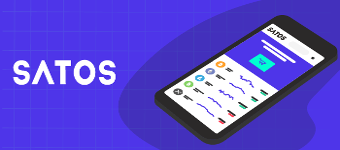 SATOS, een van Nederlands grootste cryptocurrency-handelsplatformen, zet sinds 2013 volledig in op klanttevredenheid en het be your own bank-gevoel. Deze werkwijze wordt door SATOS verder in Europa uitgerold met een spiksplinternieuwe website. Een nieuwe exchange-like website, met een filosofie die gelijk is aan de oorspronkelijke gedachte achter Bitcoin: be your own bank. Beheren van je cryptocurrencies doe je zelf.
SATOS ziet sinds het ontstaan in 2013 een groei in klantaantallen en omzet. Het bedrijf geeft aan dat dit, naast de toenemende populariteit van cryptocurrencies hoofdzakelijk komt door de geboden klantenservice en snelheid die voortkomt uit de makkelijke bestelprocedure waar geen accounts bij komen kijken. In tegenstelling tot andere handelsplatformen biedt SATOS zeven dagen per week, twaalf uur per dag live support om je waar nodig te helpen. De dienstverlening wordt met een 4,6/5 beoordeeld aan de hand van meer dan 1400 klantbeoordelingen op Trustpilot. Met deze score is SATOS volgens Trustpilot het best beoordeelde cryptocurrency-handelsplatform van Europa.
What do we want an influencer to do:
SATOS is sinds een kleine twee weken overgegaan naar een nieuwe website: SATOS.eu. Met de nieuwe website, is ook de nieuwe domeinextentie geïntroducteerd. Wij willen onze online zichtbaarheid vergroten door middel van verschillende links op verschillende websites.
We zoeken relevante platformen, een platform is in onze ogen relevant wanneer deze:
schrijft over cryptocurrency
schrijft over tech
een mannelijke doelgroep kent (20-40 jaar)
Voor deze campagne zijn twee opties mogelijk: een link in een bestaand en relevant artikel of een geheel nieuw artikel met link. Laat in jouw pitch weten voor welke optie je wilt pitchen en hoe je dit wilt aanpakken.
Apply to join this campaign
Do you want to join this campaign? Log in or sign up and apply straight away!