Briefing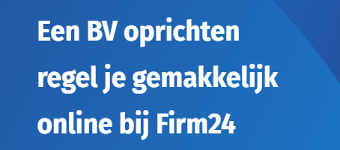 Firm24 is een platform waar ondernemers terecht kunnen voor de oprichting van hun BV en alles wat daarbij komt kijken. Anno 2020 worden bijna 2 op de 10 BV's in Nederland opgericht via ons platform. We weten dus het een en ander over het opstarten en succesvol maken van een bedrijf. We helpen iedereen graag op weg met onze opgedane kennis en ervaring.
What do we want an influencer to do:
Wij zijn op zoek naar een link in bestaande relevante content of een nieuw artikel voor het onderwerp bv oprichten. Het is belangrijk dat jouw website meerdere artikelen bevat die gerelateerd zijn aan het oprichten van een BV en alles daaromheen.
De gebruikte anchorteksten + URL's worden later vast gesteld. Het zou fijn zijn als onze dienst aansluit bij jouw platform. Let op: Vermeld in je pitch de URL waarin jij de link gaat verwerken of de insteek van het artikel dat je gaat schrijven. Geef daarnaast ook aan of de geoffereede prijs een losse link of een nieuw artikel betreft.