Briefing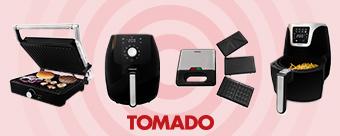 Al bijna 100 jaar maakt Tomado huishoudelijke apparaten die geliefd zijn in veel huishoudens. Of je nu op zoek bent naar een opvallende waterkoker, een ruime vrijstaande oven of een warme elektrische deken, het assortiment van Tomado is erg breed en biedt genoeg keuze voor iedereen. Het klein huishoudelijk assortiment bestaat uit meerdere productgroepen, waaronder friteuses, melkopschuimers en grilletjes. De producten worden met zorg uitgekozen en ontwikkeld, waarbij de gunstige prijs-kwaliteit verhouding nooit uit het oog wordt verloren.
Waarom Tomado?
Handige producten voor in huis
Een uitstgekende prijs/kwaliteit verhouding
Vandaag besteld morgen in huis
Omruilgarantie
Beoordeling op Bol.com 8,9/10
Gratis retourneren
What do we want an influencer to do:
Graag zien we een uitgebreide review van het door jou gekozen Tomado huishoudelijke apparaat. Je hebt de keuze uit onze ruime 5 liter Airfryer t.w.v. €60,-, compacte Airfyer t.w.v. €50,- of onze grote contactgrill t.w.v. €30,- en multigrill t.w.v €30,-.
Let op: Dit is een barterdeal. Het is belangrijk dat je twee links verwerkt in de review van ons product. Geef in je pitch aan welk product je graag zou willen ontvangen.