Briefing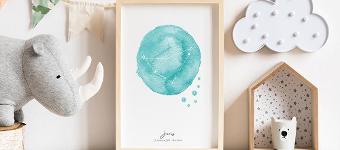 DesignClaud is een poster & stationery merk. In de DesignClaudShop vind je allerlei verschillende posters waaronder de geboorteposters met sterrenbeelden. Deze toffe, vrolijke en unieke sterrenbeeld posters zijn een persoonlijk kraamcadeau, verjaardagscadeau of cadeautje voor jezelf. Een poster met de naam van het kindje, de geboortedatum en het sterrenbeeld.
What do we want an influencer to do:
Wij vinden onze sterrenbeeld posters unieke, persoonlijke en tijdloze posters die ontzettend leuk zijn om cadeau te geven. Elke geboorte is een unieke gebeurtenis die altijd bijzondere herinneringen bij iemand zal brengen. Vier dit unieke moment door voor een sterrenbeeld geboorteposter te gaan. De posters zijn verkrijgbaar in 4 verschillende kleuren en 4 verschillende formaten met evt. ook een houten fotolijst in het wit of zwart. Wij zouden graag zien dat influencers dit benadrukken. Een gepersonaliseerde poster, uniek (kraam)cadeau, tijdloos van uitstraling. De posters zijn gedrukt op kwalitatief Tintoretto Gesso papier van 250 grams met een mooie subtiele structuur. Een nog uniekere poster is de sterrenbeeld poster mét goudfolie druk. Een bijzondere druktechniek die een poster een luxueuze uitstraling.