Briefing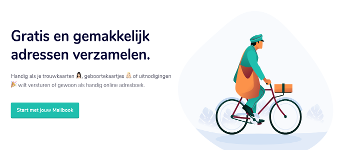 Uit nood geboren! De eeuwige struggle om al je adressen te verzamelen als je die nodig hebt voor bijvoorbeeld geboortekaartjes of een huwelijk. Vaders is spe hebben daarom Mailbook gemaakt: de tool om vlot en eenvoudig je adressen te verzamelen bij vrienden, familie en kennissen.
Met Mailbook is dat een stuk makkelijker gemaakt. Mailbook is een gratis tool die je helpt met het verzamelen van de adressen van vrienden en familie. Na het registreren ontvang je een persoonlijke link die jij (en je partner) verspreiden via Whatsapp, Messenger of e-mail, waarbij de ontvanger wordt gevraagd om zijn/haar adres toe te voegen. Alle adressen verschijnen vervolgens in jouw persoonlijke Mailbook adressenlijst, en zijn gemakkelijk weer te downloaden om te gebruiken bij het versturen van jou geboortekaartjes. Geen zin om alle adressen zelf te schrijven? Bij Mailbook bestel je gemakkelijk je adressen op transparante of witte adresstickers.
What do we want an influencer to do:
Enthousiasme en delen van ervaring na gebruik mailbook (in de categorie zwanger/geboortekaartjes), dit is waarschijnlijk alleen maar positief. We krijgen veel fijne reacties van gebruikers. Graag ontvangen we jouw creatieve idee voor een samenwerking. Denk aan tips tijdens je zwangerschap, hacks voor relaxte zwangerschap oid.
Je reviewt onze tool en benoemt het gemak van de optie om adresstickers via onze website te bestellen.