Briefing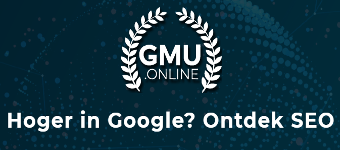 GMU, staat voor Global Marketing Unity, is een online marketing bureau dit gevestigd is in Meppel. Wij investeren continu in de kwaliteit van onze dienstverlening. Daarom is GMU een betrouwbare en gecertificeerde Google Partner. Onze gecertificeerde specialisten dragen deze badge met trots.
Om onze online aanwezigheid te vergroten, schrijven wij uitgebreide content op onze website. Mede daarom hebben wij een zeer uitgebreide SEO pagina geschreven, waarin alle laatste trends van dit onderwerp uitgebreid staan beschreven. Het totaal aantal woorden van deze pagina zit tussen de 7000 en 8000 woorden.
Met onze kennis en kunde willen wij een meerwaarde leveren aan onze klanten. Dit zijn veelal ondernemers die grote ambities hebben. Dat is dus de doelgroep van GMU.
What do we want an influencer to do:
Wij verwachten van jou als influencer dat je de pagina doorleest en begrijpt. Wij zijn op zoek naar extra exposure voor dit artikel en zien veel waarde in extra backlinks. Met name backlinks vanuit gastblogs of korte artikelen vanuit kwalitatieve websites. Wil je alleen een link plaatsen in een bestaand artikel, dan is dat ook bespreekbaar en ontvangen we graag de url van het artikel waar je de link in gaat plaatsen.
Onderaan de streep hopen wij backlinks van meerdere kwalitatieve domeinen te ontvangen, die ook geintereseerd zijn in marketing en ondernemerschap.