Briefing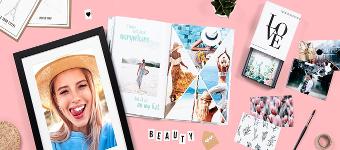 We, myposter, are an online photo print service and offer all kinds of photo products in high quality and in individual sizes. We also have a lot of materials we print on for example poster, canvas, glass, photo boxes, photo books as well as frames.We want to print the people's best memories so that they never forget them.
What do we want an influencer to do:
We will give you a 50 euros voucher code with which you can order any product you like at www.myposter.nl Print your best moments at myposter, maybe you have already collected some nice summer memories!
Here some inspiration:
We have a lot of beautiful photo book designs for every occasion.
Get your most favourite pictures in polaroid style in a photo box.
Hang your best memories with family and friends in big on the wall as framed posters, in a collage or as canvas.
Be creative and create your own individual photo product fast & easy at myposter!
We would be very happy, after you order your product and had it delivered, if you promote your myposter photo product. We wish for a blog article in which you review the product, show pictures of the result and as well talk about the benefits (for example, easy configuration, high quality, big variety, etc.). It would also be great to see your result on Instagram.
Let us know if you need help, have questions or other suggestions for cooperating!