Briefing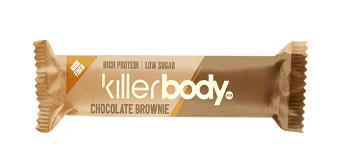 Binnenkort lanceert Fajah Lourens Killerbody Food. Het is de missie van Fajah om mensen gezonder, fitter en gelukkiger te maken. Killerbody Food is altijd een gezonde keuze , hoog in eiwit en zonder toegevoegd suiker en conserveringsmiddel. In Nederland zijn er heel weinig on-the-go keuzes voor mensen die bewust gezond proberen te eten en te drinken. Deze campagne gaat om heerlijk knapperige repen met proteine die verkrijgbaar zijn via www.mkbmshop.nl, Jumbo, kiosk en tankstations.
Onze slogan is Killerbody for every body, dus ook als je niet een fanatieke sporter bent zijn onze repen lekker en zeer geschikt.
De repen zijn verkrijgbaar in twee smaken: chocolate brownie en lemon cheesecake en zijn hoog in proteine en laag in suiker. Als je zin hebt in zoetigheid of als je energie nodig hebt is dit de perfecte snack waar je zonder schuldgevoel van kunt genieten.
What do we want an influencer to do:
We zijn op zoek naar influencers die deze repen willen proeven en testen en hun mening erover willen geven.
Zelf creatief zijn in het bedenken van content wordt gewaardeerd, graag lezen we je plan in je pitch. Wij vinden het belangrijk dat je een duidelijke review vanuit je zelf schrijft. Benoem dat onze repen laag in suiker zijn en hoog in proteine en dat je dus zonder schuldgevoel kunt snacken. Ook zou het fijn zijn als je de smaak beschrijft.