Briefing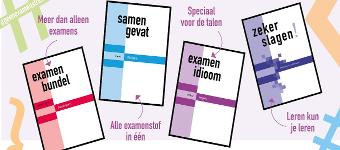 Zeker slagen met Examenbundels! Wil jij precies weten wat je moet leren? Oefen met echte examens en perfecte samenvattingen en ga vol vertrouwen het centraal- en schoolexamens in! #geenexamenstress #ikgazekerslagen.
Examenbundel bestaat uit een aantal producten:
Examenbundel met oefenvragen en echte examenstof
Samengevat met samenvattingen en voorbeelden uit de laatste examens
Examenidioom met oefenvragen per onderwerp en echte examenstof
Zeker slagen! over hoe je je examens het beste kunt aanpakken
Ter info: door corona hebben leerlingen leerachterstanden opgelopen, zij hebben onder andere te maken met uitval van docenten en onderwijs op afstand. Examenbundel bestaat al meer dan 40 jaar en bereidt een examenleerling voor op de centraal- en schoolexamens.
Apply to join this campaign
Do you want to join this campaign? Log in or sign up and apply straight away!