Briefing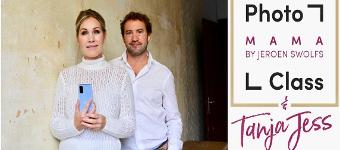 Photo Class: Smartphone voor Mama is een online fotografie cursus speciaal voor mama's waarin je van topfotograaf Jeroen Swolfs en actrice Tanja Jess leert hoe je van elke situatie de perfecte foto kunt maken met je Smartphone. Smartphone voor Mama is beschikbaar als desktop versie en als Instagram cursus zowel voor iPhone als voor Samsung.
De cursus bestaat uit 5 modules. Je leert onder andere welke instellingen en licht je het best kunt gebruiken. Tevens geven we je tips over de juiste composities, gaan we in de praktijk oefenen en geven we je tips hoe je de foto's kunt editen om tot het ultieme resultaat te komen. De cursus is opgedeeld in lessen van 5 minuten waardoor je zelf kunt bepalen hoe lang je per keer met deze cursus aan de slag gaat. In totaal bieden wij drie uur cursus materiaal waarna je de perfecte foto's kunt maken van alles dat jou dierbaar is.
Vanaf 14 t/m 26 december loopt er een speciale Gift Card Kerstactie waarbij je de cursus kado kunt geven met 25% korting (€ 36 ipv € 49) en een bijgeleverde Gift Card die onder de kerstboom kan en online te verzilveren is. De giftcard is printbaar en te personaliseren (online of met de hand). Hierdoor vermijd je de post, is je cadeau altijd op tijd in huis. Het ideale cadeau om in deze tijd te geven, je hoeft niet fysiek contact te hebben met de ontvanger: je kunt het cadeau met persoonlijke boodschap eenvoudig door de brievenbus geven, maar natuurlijk ook onder de kerstboom of persoonlijk overhandigen.