Briefing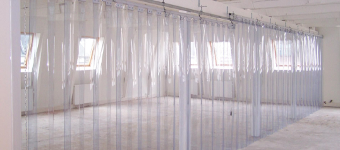 Strokengordijnen worden meer gebruikt dan je zou denken, wij worden nog regelmatig verrast! Wij zijn op zoek naar een klusser of handige doe het zelver die zijn werkruimte (bijv,. garage) wil afschremen om te voorkomen dat bijvoorbeeld stof zicht door de hele garage verplaatst. Maar denk ook aan het winddicht maken van open tuinhuis, terrasoverkapping. Waar je ook aan kunt denken is het flexibel scheiden van een ruimte, wellicht heb je een creatieve ruimte en wil je opsplisten, dat kan dan eenvoudig met een strokengordijn.
Strokengordijnen worden geleverd in vele kleuren, doorzichtig en ondoorzichtig of een combinatie hiervan.
Mocht je andere ideen hebben waarbij een strokengordijn goed van pas komt? Deel deze dan met ons, we zijn razendbnieuwd!