Briefing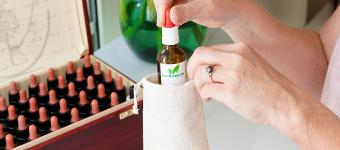 Wij zijn een webwinkel gespecialiseerd in Bach Bloesem Mixen. Bachbloesems zijn plantaardige extracten van bloemen, planten en bomen. Het product is ontwikkeld in de jaren '30 door Dr Bach in Engeland.
Bachbloesems worden wereldwijd door miljoenen mensen, kinderen en dieren ingenomen voor de meeste uitlopende 'problemen' zoals slapen voor kinderen en baby's, concentratie op school voor kinderen die snel afgeleid zijn, voor hooggevoelige kinderen, bij autisme of onzekerheid. Van doorkomende tandjes tot puberteit. Voor moeders (en vaders) met een burn-out, hyperventilatie, de menopauze, slaapproblemen of bij neerslachtigheid en angstige gevoelens.
Wat doen bachbloesems?
Bachbloesem zijn wetenschappelijk niet bewezen. We kunnen niet een garantie geven dat het werkt, daarin zijn we heel open. Wel horen we dagelijks dat huilbaby's lekker slapen, honden minder blaffen en kinderen beter opletten op school of moeders rustiger slaapt.
Bachbloesems herstellen een (emotionele) onbalans op natuurlijke wijze.
Belangrijk is een goede dosering: 4x per dag 4 druppeltjes direct in de mond (op bso dagen: 3x per dag 4 druppeltjes).
Bachbloesems hebben een inwerktijd nodig. Meestal merk je na een week de eerste subtiele veranderingen. Die worden groter naarmate je langer de druppeltjes inneemt.
Wij zijn uniek met onze mixen omdat wij deze persoonlijk en op maat samenstellen. Iedereen die bij ons een bachbloesems besteld, krijgt na aankoop een paar korte en relevante vragen die de klanten kunnen invullen en terugzenden. Met de antwoorden stel ik het recept samen en maken wij de mix op maat op maat klaar. Het flesje wordt gepersonaliseerd met een naametiketje. 100% maatwerk en precies afgestemd op wat er nodig is.