Briefing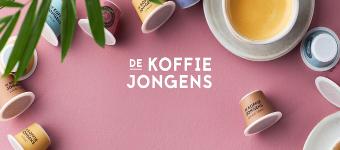 Wij zorgen met De Koffiejongens sinds 2016 ervoor dat steeds meer mensen nooit meer zonder koffie komen te zitten. Dit doen wij door middel van een koffieabonnement aan te bieden met 100% biologisch afbreekbare koffie cups voor je Nespresso apparaat. Wij doelen op de koffieliefhebber met een Nespresso (Compatible apparaat) die kiest voor gemak en lekkere koffie. Dat is koffie die ook nog eens een heel erg milieubewust gemaakt en geleverd wordt.
Wij staan voor:
1. Duurzaamheid:
Bij De Koffiejongens was duurzaamheid nooit een keuze geweest, maar een gewoonte. Daarom zijn onze koffiecups 100% biologisch afbreekbaar. Daarnaast komt de koffie in de koffiecups van Rainforest Alliance aangesloten koffieboeren, hierdoor is de koffie geteeld met respect voor de natuur en zorgen wij voor betere leefomstandigheden voor de koffieboer en zijn familie. Ook voor elke boom die gebruikt wordt voor onze verpakkingen wordt er een nieuwe boom geplant. Wij gaan in duurzaamheid nog een stapje verder, aangezien 95% van onze brievenbuspakketjes op de fiets geleverd worden of soms zelfs lopend. Lekker bezig!
2. Gemak:
Nooit meer zonder koffie met een abonnement van De Koffiejongens. Drink jij veel of weinig koffie? Maakt niet uit! Jij stemt een abonnement af op jouw koffie behoefte en je hoeft hiervoor niet eens thuis te blijven. Je krijgt de koffie via het bezorg schema dat jij hebt aangegeven gemakkelijk in dozen van 60 koffiecups door je brievenbus geleverd. Ohja, ook niet geheel onbelangrijk, voor 20:00 besteld is de volgende werkdag bezorgd, dus je zit vrij snel al nooit meer zonder koffie. Cheers!