Briefing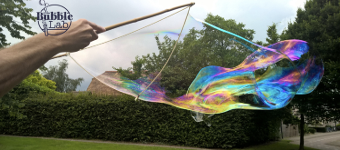 Met het Bubblepoeder en een flesje originele groene Dreft maak je een sop dat je tot wel zes maanden kunt bewaren. Maar waarschijnlijk staat je kleine meteen al naast je te springen, want grote zeepbellen maken is natuurlijk een van de leukste dingen om te doen. Dit speelgoed is niet alleen goed voor uren speelplezier, maar ook nog eens een duurzame keus. BubbleLab vindt het namelijk belangrijk om het milieu zo min mogelijk te belasten met hun producten. Al hun items worden daarom in Nederland gemaakt, zodat er van transport nauwelijks sprake is. De verpakkingen zijn gemaakt van FSC karton, ook die van de navulverpakking voor vijf of tien Xtra liter sop, en de stokken van FSC hout uit Duitsland. Zelfs het touw van de Bubblestok, van ongebleekt katoen en Nederlands fabricaat.
Campaign application
Do you want to join this campaign? Log in or sign up and apply straight away!