Briefing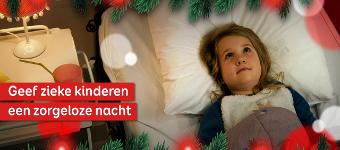 In het najaar gaat CliniClowns een campagne voeren rondom de bezoeken die zij in de avond aan zieke kinderen in het ziekenhuis willen brengen. Want: Stel je ligt in het ziekenhuis. In deze donkere maanden. In een vreemd bed. Als je in het ziekenhuis ligt, dan is het wel een beetje spannend. Je ligt in een vreemde omgeving, met vreemde geluiden en vreemde mensen die soms inlopen. Ga dan maar eens rustig slapen.. Dat is voor veel kinderen een uitdaging.
Gelukkig is er een lichtpuntje: De CliniClowns. Met een speciaal bedtijdbezoek nemen zij heel even de zorgen en angst bij zieke kinderen in het ziekenhuis weg. Voor een goede nachtrust, die zij nu juist zo hard nodig hebben. We willen zoveel mogelijk kinderen een bezoek brengen, maar daar hebben we de hulp van donateurs voor nodig. Want CliniClowns kan alleen haar werk doen dankzij de giften van donateurs. Dit najaar voeren we dan ook campagne om meer mensen te bereiken die ons willen steunen.
Bekijk ter inspiratie onze pagina van vorig jaar: https://www.cliniclowns.nl/bedtijdbezoek. Hier komt binnenkort een update van voor dit jaar.
Campaign application
Do you want to join this campaign? Log in or sign up and apply straight away!