Briefing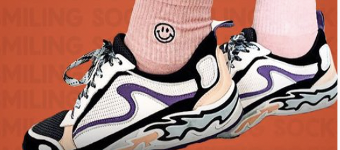 Wij zijn Smiling Socks. Een vrolijk sokken-merk met als missie om de wereld gelukkiger te maken. Dit doen wij o.a door onze smileys op de achterkant van de sok. Daarnaast zijn onze sokken ook gewoon harstikke tof. Ze zijn, comfortabel, zakken niet af en hebben modieuze kleuren.
Wij willen dat mensen gelukkig zijn en wij willen hen helpen te genieten van de kleine dingen in het leven. Een glimlach is een klein ding, maar kan mensen dichter bij elkaar brengen: een glimlach op iemands gezicht, een glimlach op iemands voeten. Met lachende sokken willen we mensen een makkelijke en stijlvolle manier bieden om zich goed te voelen en anderen zich ook goed te laten voelen. Geluk is kostbaar, en het kan zo simpel zijn als een glimlach.
Onze doelgroep bestaat voornamelijk uit vrouwen, van jong tot oud. Wij merken dat de jonge doelgroep onze sokken echt als fashion item gebruiken. Je kunt namelijk elke dag je sokken matchen met je outfit. Daarnaast hebben wij ook een grote oudere doelgroep. Zij vinden het idee en onze missie gewoon harstikke leuk.
Campaign application
Do you want to join this campaign? Log in or sign up and apply straight away!