Briefing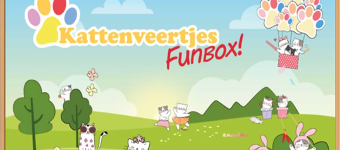 Kattenveertjes.nl is de kattenspeeltjesspecialist. Een webshop die volledig gericht is op de huistijgers; katten dus. Ooit begonnen omdat we het perfecte, onverwoestbare speeltje zochten voor onze eigen huistijger, en ondertussen zijn we al ruim 7 jaar online en we groeien flink in klanten en assortiment. Kattenveertjes staat er om bekend dat wij elke bestelling persoonlijk behandelen en niet als bestelnummer zoveel. Wij vinden dan ook heel belangrijk om een persoonlijke touch te geven aan de bestellingen. Het moet tenslotte een leuke ervaring zijn voor kat en baas.
Deze campagne is gefocust op de Kattenveertjes Funbox. De Kattenveertjes Funbox is een pakket met de aantal populaire speeltjes uit de webshop! Je bent letterlijk in 1 keer klaar voor je eigen huistijger of om weg te geven als een cadeau!
Campaign application
Do you want to join this campaign? Log in or sign up and apply straight away!