Briefing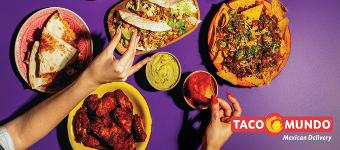 Taco Mundo: lekker Mexicaans, snel bij je thuis én een goed gevoel bezorgen!
Taco Mundo is de eerste en enige landelijke bezorger van Mexicaanse gerechten met 33 winkels door heel Nederland. Wij geven een verrassende draai aan de traditionele Mexicaanse keuken. Van heerlijke Burritos tot Nachos a la Mexicana die je kunt dippen in een van onze acht huisgemaakte Salsas. Al onze gerechten worden met liefde bereid en met een glimlach bezorgd. Taco Mundo is verrassend, betrouwbaar, kleurrijk en toegankelijk. Ons team werkt samen met topchef Gustavo om ons menu continu verder te ontwikkelen en neemt daarin de laatste culinaire trends mee; zo bestaat onze menukaart voor 20% uit vegetarisch gerechten.
Taco Tuesday
De meeste zijn wel bekend met de term Taco Tuesday. Dit willen wij als Taco Mundo meer omarmen en lading geven in Nederland. Taco Tuesday staat in het teken van het eten van lekkere taco's met vrienden, familie en collega's. Dit past bij Taco Mundo en willen wij ook altijd uitstralen. Het doel is dat al onze amigo's op de dinsdag met elkaar van taco's gaan genieten.
Van street taco's tot normale taco's, van pulled beef tot vegetarische gegrilde kip.
Check alle opties hier: https://www.tacomundo.com/menu
Campaign application
Do you want to join this campaign? Log in or sign up and apply straight away!