Briefing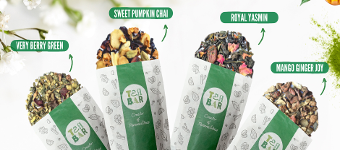 The Original Tea Bar - de 1e Tea Bar van Nederland sinds 2008 – met de beste thee ter wereld!
Alle Tea Bar losse thee en kruiden creaties zijn origineel, verrassend en verslavend lekker.. In alle theeën zitten echte stukjes fruit of specerijen. Jarenlang testen met onze theeklanten proefpanels heeft een collectie van must-have tea's opgeleverd waar maandelijks duizenden mensen van genieten.
Duurzaam - Go Planet!
Losse thee is niet alleen lekkerder maar ook nog eens veel duurzamer dan theezakjes. Minder verpakkingen = minder afval. De verpakkingen van de Small en Medium zakjes zijn 100% recyclebaar bij het oud papier en biologisch afbreekbaar. En een groot gedeelte van onze thee wordt liefdevol ingepakt door mensen met een beperking.
Goed bezig jij
Stay hydrated! Je moet we 1,5 tot 2 liter water per dag drinken - laat Tea Bar je helpen je dagelijkse watergoals te bereiken op een simpele en gezonde manier.