Briefing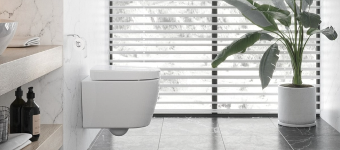 Een onaangename geur op het toilet vindt niemand leuk. Niet thuis, niet op restaurant en niet op het werk. Stel je maar eens voor dat je net je ding hebt gedaan op het werk en wanneer je de deur opent van het toilet kom je jouw baas/bazin tegen. Ongemakkelijk is anders. Of wanneer je de badkamer binnen komt en je man zit lekker zijn ding te doen op toilet. Heerlijk toch als dit nu kan zonder die vervelende geur? :) Er zijn zelfs mensen die niet naar toilet durven gaan, omdat ze schrik hebben dat iemand het zou kunnen ruiken.
De PURE-D is een toiletbril met geïntegreerde geurafzuiging die zorgt voor een geurloze toiletervaring. Gedaan met onaangename geurtjes, gedaan met schaamte hieromtrent. De PURE-D is gemakkelijk te installeren en vraagt geen verdere aanpassingen aan je huidig toilet. Gewoon jouw toiletbril eraf nemen en de PURE-D in de plaats installeren. Hij werkt ook volledig automatisch. Zodra je gaat zitten springt de geurafzuiging in gang en als je opstaat stopt hij ook weer vanzelf. Verder heeft de toiletbril ook alle eigenschappen van een normale toiletbril zoals onderhoudsvriendelijk, duurzaam, soft close, quick release.
Kortom:
Altijd een fris toilet
Eenvoudige installatie
Past (bijna) altijd
Geen stopcontact nodig
Campaign application
Do you want to join this campaign? Log in or sign up and apply straight away!