Briefing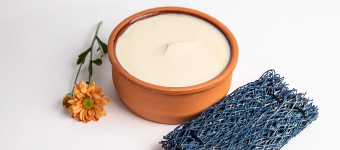 Company description
Boavista Circular is a brand that reuses waste into daily-use cleaning products. For example, our dish soap is made from used cooking oil and our sponge is made from rescued fishing nets.
Both these waste, when not properly disposed of, have a massive impact on our environment. Boavista aims to minimize this issue. Reinventing the way we clean our homes with effective circular products.
Boavista Circular Starter Kit
Our dish soap is a powerful multi-purpose soap; it can replace up to 2 plastic liquid soap bottles, cut grease and dirt easily, and is biodegradable. Most cleaning products are full of harmful substances, making their ingredients list endless. For example, Boavista solid soap contains only five ingredients.
This starter kit includes
1 Solid dish soap in terracotta bowl
1 Refill solid dish soap
1 Recycled fishing net sponge
For an eco-friendly, zero waste and economic alternative.