Briefing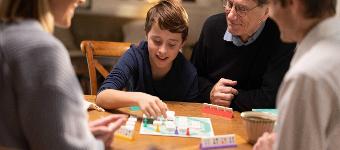 Company description
Asmodee is distributeur van de leukste bord- en kaartspellen in de Nederlandse markt en bekend van diverse titels zoals Ticket to Ride, Dobble, 7 Wonders en Exploding Kittens.
Op 24 maart zijn twee nieuwe titels gereleased die we graag onder de aandacht willen brengen.
Als eerste het nieuwe familiespel SETUP. Dit is een spel van tegels en tactiek dat snel te leren is en alle kanten op kan gaan. Combineer kleuren en cijfers van de kaartachtige tegels en bouw sets op het speelbord. Plaats je tegels goed om meerdere sets te activeren en extra punten te scoren. Maar let op… speel je tegenspelers niet in de kaart! Strijd tegen vrienden en familie, solo of in teams voor een nóg fellere competitie!
Als tweede het leerzame spel Brainbox De Wereld. In dit leuke geheugen en observatiespel leren kinderen al spelenderwijs over de wereld. Denk hierbij aan hoofdsteden, bezienswaardigeheden, nationale iconen en nog veel meer. Alle antwoorden staan op het kaartje, maar je hebt slechts 10 seconde om de kaart te bekijken. Weet jij het goede antwoord op de vraag?