Briefing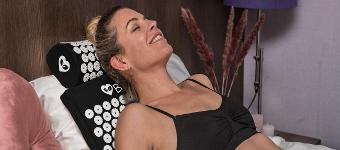 Company description
BrellaVio is een energiek Nederlands bedrijf met één missie: duurzame vitaliteit bieden voor jou en de wereld om ons heen! 🙏
Deze missie komt voort uit onze eigen zoektocht naar meer mentale en fysieke ontspanning. Naast dat wij zelf al jarenlang de spijkermat gebruiken, geloven we dat het onze taak is om zo veel mogelijk mensen meer ontspanning, minder pijnklachten en een betere slaapkwaliteit te bieden met onze spijkermatten.
Al 1000'en Nederlanders genieten van het wetenschappelijk bewezen positieve effect van onze spijkermat. De BrellaVio spijkermat is gebaseerd op de acupressuur massagetechniek, beter bekend als drukpuntmassage.
De duizenden drukpunten van de spijkermat, oefenen druk uit op de energiebanen in jouw lichaam en zorgen voor het wetenschappelijk bewezen effect. Door het gebruik van de BrellaVio spijkermat stimuleer je de bloedsomloop, worden blokkades op jouw energiebanen vrijgemaakt én maakt het lichaam gelukshormonen aan. Hierdoor kom jij tot ontspanning en reken je af met vervelende klachten zoals stress, lichamelijke pijn en een slechte slaapkwaliteit.
De voordelen van de BrellaVio spijkermat op een rijtje: ✔️
Vermindert stress en bevordert ontspanning
Verlicht spierpijn en andere soorten pijn
Verbetert de slaapkwaliteit en het energieniveau
Stimuleert de productie van gelukshormonen
Heeft een verminderend effect op migraineaanvallen
Helpt symptomen van fibromyalgie te verminderen
Helpt bij het beheersen van autisme en ADHD
Campaign application
Do you want to join this campaign? Log in or sign up and apply straight away!