Briefing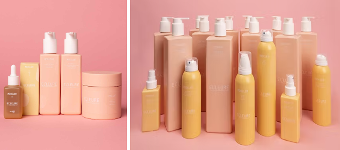 Company description
Elleure is geïnspireerd door kappers en ontstaan door de behoefte van hen aan een fashionable maar betaalbaar merk.
Elleure is een in Nederland ontwikkeld merk met de charme van Frankrijk. De naam Elleure is ontstaan door de combinatie van de woorden 'Elle', wat 'vrouw' betekent, en 'allure', wat staat voor 'iets indrukwekkends'. Elleure vindt namelijk dat wij, als nuchtere Nederlanders, wel iets van die Franse (vrouwelijke) schoonheid en charme kunnen gebruiken.
Dat Franse gevoel wordt ook doorgetrokken in de benamingen voor de verschillende kleur-, verzorgings- en stylingslijnen met namen als Clarifier, Brillant, Beaucoup en Modeler. Het assortiment bestaat uit hoogwaardige haarkleuring, haarverzorging en stylingsproducten. Elleure legt de focus niet op onnatuurlijk of felgekleurd, maar op natuurlijke zachte kleuren, indrukwekkende schoonheid met een touch of fashion. De producten hebben een opvallende maar eenvoudige uitstraling en staan prachtig in iedere badkamer.
De producten van Elleure zijn niet alleen goed voor het haar, maar ook voor mens, dier en milieu. Het complete assortiment is 100% vegan, dierproefvrij en bevat unieke ingrediënten. De verzorging- en stylingslijnen van Elleure zijn bovendien parabeen, sulfaat en siliconenvrij.
Kenmerken
Parabeen, sulfaat en siliconenvrij
100% vegan
Dierproefvrij
Unieke ingrediënten per lijn
Let op: deze klant wenst niet buiten LinkPizza om benaderd te worden voor een samenwerking. Neem bij vragen contact op met LinkPizza via de chat.