Briefing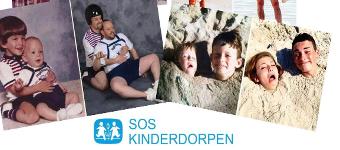 Op 30 september is het Nationale Broer en Zus-dag. Een mooie gelegenheid om op een leuke en luchtige manier extra aandacht te vragen voor relatie tussen broer(s) en zus(sen). SOS Kinderdorpen wil op deze speciale dag bewustwording bij het publiek creëren voor het samen plaatsen van broers en zussen als zij (tijdelijk) niet thuis kunnen wonen. En zeker niet minder belangrijk: ook politieke partijen/Kamerleden ervan overtuigen dit recht wettelijk vast te leggen.
Wie zijn betrokken bij de broer/zus campagne?
Om meer awareness te creëren voor onze campagne werken we samen met meerrdere influencers, SOS-ambassadeurs en andere BN'ers. Iedereen zet zich in voor dit doel op een ludieke en leuke manier. We hebben inmiddels al een mooie groep mensen die meewerken op de 30e en waarmee we ook bij Koffietijd aan tafel zitten.
Over SOS Kinderdorpen
SOS Kinderdorpen zet zich al ruim 70 jaar wereldwijd in voor kinderen zonder ouders of veilig thuis. SOS Kinderdorpen biedt hulp samen met de Nederlandse Postcode Loterij en Simba Familiezorg. Opgroeien bij eigen ouders biedt kinderen de beste start in het leven, zelfs bij tegenslag in het gezin. Als kinderen (tijdelijk) niet veilig thuis kunnen wonen, komen broertjes en zusjes nog te vaak op verschillende opvangplekken terecht. Hierdoor neemt het risico toe dat een gezin na een uithuisplaatsing definitief uit elkaar valt. Simba Familiezorg wil eraan bijdragen dat in Nederland zo veel mogelijk kinderen veilig kunnen opgroeien in hun eigen familie. Dat doen wij door ouders intensief te ondersteunen en het netwerk van het gezin te versterken. Het is de eerste keer dat SOS Kinderdorpen met een programma actief is in eigen land.
Campaign application
Do you want to join this campaign? Log in or sign up and apply straight away!