Briefing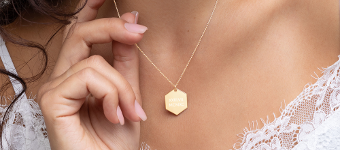 First of all we'd like to introduce ourselves; We're Dainty(https://dainty.shop/)- A company based in the Netherlands, but have warehousing/production centers in the US and Latvia to be able to serve people all over the world. We make high quality 24K gold plated (sterling silver as a base), Rose Gold, or Silver, minimalistic jewelry, custom engraved to order. Some of our bestsellers are https://dainty.shop/hexagon-necklace-roman https://dainty.shop/initial-hexagon-necklace-gold-a which are also the products we'd like to focus on with this campaign.
Wat verwachten wij van een influencer:
We're looking for high quality 'instagram style' fashion images. Our focus will be mainly on this platform, but we are open to receiving other options as well. We don't have that many requirements for this particular campaign, as we have full trust in your capabilities as a creative content producer, but there are two main points we'd like to address:
Your eyes should be visible

It should be a closeup that's close enough for the jewelry to be clearly visible, and preferably not combined with other necklaces (all other jewelry such as earrings is fine)
The image should be posted to instagram and our page @dainty.EN should be tagged in the image. We'd like to reuse these images on our website with your instagram name in the bottom right corner. The theme
Please let us know if you need more information or if you have any other questions!
Looking forward to hearing from you soon!