Briefing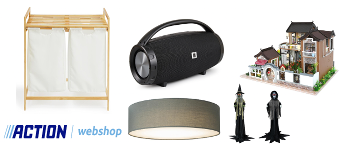 Company description
Action, je kan er tegenwoordig niet meer omheen in Nederland. Met onze lijfspreuk "Kleine prijzen, grote glimlach" zijn we ondertussen de snelstgroeiende retailer van Europa. Wij kopen groot in, zodat we onze eigen merkproducten én A-merken voor de laagste prijs kunnen aanbieden.
Van cadeaus tot handdoeken en van ondergoed tot pannensets en knutselspullen, bij ons vind je alles wat je iedere dag nodig hebt én leuke en verrassende producten. Action is er dan ook voor iedereen. Of je nu een kleine portemonnee hebt, of gewoon graag de laagste prijs betaalt voor je dagelijkse producten.
Elke dinsdag om 12 uur verschijnen er nieuwe online deals in de Action Webshop. Van de leukste woonaccessoires tot de beste pannen en handige doe-het-zelf apparaten en dat tegen een scherpe prijs.
Vanaf dinsdag 29 augustus gaan de volgende deals live:
Links voor de NL webshop:
Links voor de BE webshop: