TikTok is new, video and Generation Z. By throwing Tiktok influencers into your marketing mix, you'll reach a new target audience in one go. Start your TikTok campaign right now and receive proposals from TikTokkers ready to spread your message to the target audience in a creative way. 
At LinkPizza, influencers get to work for you. They will translate your message into content that works. You can follow the results of your campaign in real time in your campaign dashboard. Original TikTok content that will score!
The benefits of TikTok influencers & creators
Reach Generation Z
Do you want to reach Generation Z? Then it's an absolute must to work with influencers and content creators on TikTok. There are more than 800.000 users in the age group 6-18 in the Netherlands alone.  
TikTokkers translate trends and challenges
TikTok influencers know what the latest trends and most fun challenges are. They use their knowledge so your campaign can easily reach the younger target audience. There's no need for you to figure out which trends are hot right now; the TikTokker will do this for you!
Going viral
The TikTok algorithm makes sure video's go viral quickly. Experienced creators understand like no one else which content speaks to their target audience and how the platform works. So it just might be your brand going viral next, and you just might be one of the many success cases on TikTok.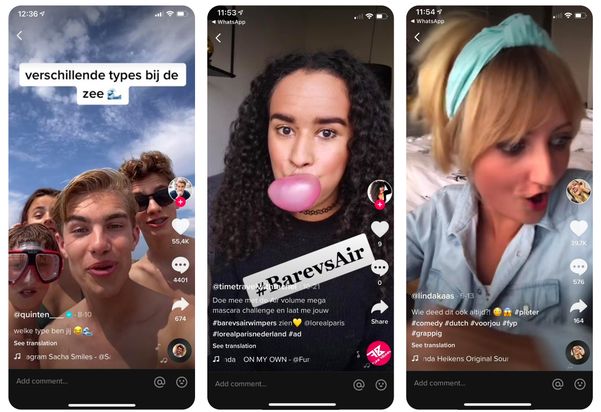 "Because of LinkPizza I was able to start several collaborations with TikTokkers. For my 'smart' skipping ropes, TikTok turns out to be a conversion-rich platform with a broad outreach."

Daan van Dijk
CEO Ultimate Shape & Smartrope

Large network of influencers at your fingertips
Stop searching for hours and find influencers/content creators with only one simple click.

Collaborating with professional influencers
All influencers at LinkPizza have a controlled reach and have been verified to guarantee quality. Save time and only be put in touch with influencers who are willing and used to working with brands.

Achieved results transparent in real time
The reach and engagement per campaign is collected, checked and shown in real time in your campaign overview. No fuss calculating the ROI of your campaign.

The right target audience
Select influencers easily based on reach and topic so you'll connect with the right target audience for your brand or product.

Effortlessly manage multiple influencer campaigns
Collaborate with multiple influencers at the same time and make separate agreements about price and content. All in one simple platform.

Streamlined, scalable and measurable influencer marketing
In other words: working with LinkPizza makes using influencers an effortless and professional part of your marketing mix.

LinkPizza
Influencer marketing; scalable and measurable
How does a TikTok influencer campagne work

1. Share your wishes with our influencers
Share your campaign wishes and let influencers pitch their idea and quote, or contact the influencers you think would be a good fit with your brand.

2. Receive proposals
Receive influencer proposals and quotes per article or post. This way you'll be able to see how your brand will be promoted by the influencers.

3. Communicate directly with influencers
Keep the conversation with the influencers going until you are happy with the content they have created.

4. Pay and put it live!
Pay after you've reached a good result with the influencer. After this the posts and articles will be put live.

5. Follow the performance
Follow the real time results in your dashboard on our platform. Check the reach and the impact your campaign has.
1


1. Share your wishes with our influencers
Share your campaign wishes and let influencers pitch their idea and quote, or contact the influencers you think would be a good fit with your brand.
2

3

4

5

Frequently Asked Questions