Briefing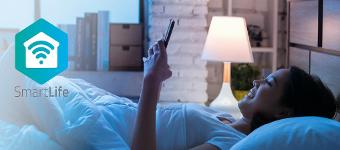 Nedis offers products and complete solutions to your daily needs. Thus making your personal life smarter, easier and healthier. We stand for smart electronic appliances that are easy and intuitive, all our products are easy to install, often ready to use right out of the box. With this offering we are the smartest alternative to A-brands. Our primary audience for this campaign is consumers aged between 18+ to 45+. Looking to buy / interested in smart home appliances such as intelligent Wi-Fi LED bulbs or Smart Home Security systems.
What do we want an influencer to do:
As a brand, we are looking for collaborations with bloggers, influencers, vloggers, who promote our brand & products of which the link & UPS we like to them to highlight is included below.
Smartlife in General
Connect
Connect Nedis® SmartLife products directly to your WiFi without the use of a separate hub.
After unboxing your brand new smart item you can wirelessly connect the product to your existing WiFi network.
Control
Control all products with the Nedis® SmartLife App or use voice control after connecting them to Amazon Alexa or Google Home.
The Nedis® SmartLife app gives you full control over the smart products. Create scenes for automated functionalities or check and control each smart product individually.
Combine
Combine different SmartLife products in scenarios.
Have you started with a single smart product - and now you want to smarten up your entire home? With Nedis® SmartLife you can create a smart home while using just one app.
To experience the convenience of Smart products we will send you 2 of our smart products.
· WIFILF10GDA60 ; a smart light bulb with a retro/vintage look. | https://www.nedis.com/product/wi-fi-smart-led-filament-bulb-e27-a60-5w-500-lm
· WIFIP120FWT; a Smart Wall Plug and Power monitor making non smart devices smarter and offer a smart way to measure and control your electricity consumption. | https://www.nedis.com/product/wifi-smart-plug-power-monitor-schuko-type-f-16a
We have a decided our campaign theme to be 'nedis presents' in this campaign we want to promote our brand and products.
Therefore, we like influencers to create content that involves unboxing of the products, presenting their features and reviewing the product.
The content created needs to have a positive and informal tone of voice. We appreciate positive and relevant feedback about the product and the brand.
We measure the success of the campaign based on reach, engagement, visitors, views.