Briefing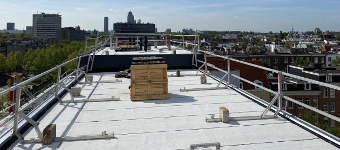 De dakmakers van Kewodak repareren, creëren en transformeren platte daken. Ze hebben meer dan 35 jaar ervaring. 24/7 service en onderhoud. Ze werken met gecertificeerde Dakmakers. De Dakmakers staan garant voor vakmanschap, innovatie, duurzaamheid en continuïteit.
Steeds meer bedrijven, instellingen, scholen en VVE's ontdekken dat hun platte dak talloze kansen biedt voor verduurzaming. Met meer dan dertig jaar ervaring voegen de gecertificeerde specialisten van Kewodak | Dé Dakmakers waarde toe aan uw dak.
Denk bijvoorbeeld aan energiebesparende en koelende witte daken, groene daken, dakisolatie, zonnepanelen, of een combinatie daarvan. Kewodak en onze 24/7 serviceorganisatie Dé Dakmakers werken met de nieuwste en meest innovatieve concepten om de volle potentie van uw platte dak te benutten. Of u nu kiest voor reparatie, onderhoud of volledige transformatie, u profiteert van onze kennis, ervaring, gecertificeerde werkwijze en 10-jaars projectgarantie.
Een paar belangrijke zaken om rekening mee te houden:
- Kewodak richt zich in principe niet op particulieren, maar op bedrijven / Verenigingen van Eigenaren / Scholen (of eigenaren van panden met een groot aantal m2 aan plat dak)
- Kewodak werkt alleen op platte daken, dus geen traditionele dakpandaken
- Kewodak heeft diverse oplossingen voor platte daken als: Energiedaken, Groene Daken, Blauwe daken (waterbeheer)