Briefing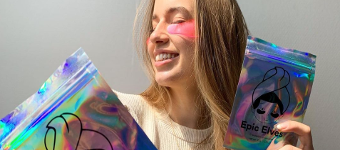 Deze Herbruikbare Silicone Oog Patches verhogen de hydratatie en maken de huid voller, waardoor fijne lijntjes en rimpels minder zichtbaar worden. Al na één nacht ziet u resultaat, en bij regelmatig gebruik blijft uw huid er jeugdig en fris uitzien. De herbruikbare siliconen oogpatches zijn gemaakt van een lichtgewicht, ademend materiaal: siliconen. Door zijn flexibiliteit is het comfortabel om elke nacht te dragen.
RIMPELS VERBANNEN OVERNACHT: Help donkere kringen, wallen onder de ogen, fijne lijntjes en rimpels te verbannen terwijl u slaapt met onze Herbruikbare Silicone Oog Patches.
WAKKER WORDEN MET EEN JEUGDIGE VERFRISTE U: Onze Herbruikbare Silicone Oog Patches geven zachte compressie om fijne lijntjes glad te strijken voor een jonger uitziende huid. Onze patches werken 's nachts en overuren om u te helpen uw anti-aging routine te behouden.
DE MAGIE: De Herbruikbare Silicone Oog Patches zijn gemaakt van Silicium en Zuurstof die zijn gekoppeld met Waterstof en Koolstof om siliconen polymeer te maken.
REJUVENATIE: De siliconen moedigen uw huid aan om zichzelf te verjongen - wanneer u wakker wordt zult u een vollere, gehydrateerde huid hebben.
Campaign application
Do you want to join this campaign? Log in or sign up and apply straight away!