Briefing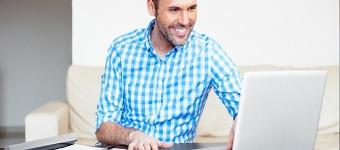 Campaign expectations
Wat is het beste boekhoudprogramma voor je onderneming? Waar moet je op letten en wat zijn de kosten? De boekhoudsoftware voor zzp'ers vergelijken is dan dé oplossing.
Je wilt ieder moment inzicht hebben hoe je onderneming ervoor staat. In welk boekhoudpakket je dat doet is zeer belangrijk. Is je administratie snel bijgewerkt, bijvoorbeeld via een App? Kies je voor een boekhoudprogramma zzp in Excel? Of besteed je de hele administratie uit? Belangrijke vragen die je jezelf stelt voordat je een boekhoudpakket gaat vergelijken.
Op boekhoudprogramma-vergelijken.com kun je software vergelijken waar je snel tijd en geld mee bespaart:
Je leest onafhankelijke reviews geschreven door andere gebruikers van de boekhoudsoftware.
Het uitproberen is altijd 30 dagen gratis; je betaald nooit kosten voor een proefperiode.
In slechts 1 minuut maak je al een testaccount aan om direct online aan de slag te gaan!
Wij willen graag een link in een bestaand en relevant artikel. Dat kan een artikel zijn over werken als zzp'er, starten als zzp'er of een artikel over kosten besparen als ondernemer. Heb jij een goed artikel geschreven gerelateerd aan deze onderwerpen? Dan ontvangen wij graag jouw pitch met de link naar het desbetreffende artikel.
Deze opdracht gaat puur om linkplaatsing en het is belangrijk dat je al eerder meerdere artikel online hebt geplaatst over ondernemen, zzp'ers, vergelijkingswebsites-/software of besparen voor ondernemers.