Briefing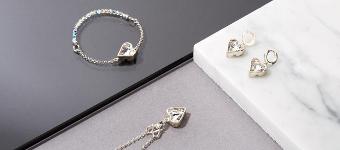 Campaign expectations
Kuroji (black balance in Japanese) is a Dutch jewelry brand that stands for unique and elegant fine jewelry, in perfect balance. To wear every day and suitable for any occasion. From formal day-wear to informal evening, dining and stepping out with friends after work.
Our mission is to empower women, let them show their confidence. Brightening their day and share it with their girls. All in good balance, not to overrule your own brilliance. This is the reason why we work with sterling silver and Swarovski crystals; long-lasting materials and brilliance. Just like you.
Aandachtspunt is wat ons betreft dat de sieraden ook een praktisch element hebben en gemak met zich meebrengen. De hoops van de oorbellen kunnen makkelijk open en dicht geklikt worden. De armbanden zijn mooi in balans en hebben een elastisch deel met kristal, parel of zilver kralen en een deel ketting. In balans zodat de armbanden zonder sluiting om gedaan kunnen worden en toch mooi strak om de pols zitten. De ketting heeft de sluiting aan de voorkant, dit beperkt de verschuivingen waar bij gewone kettingen het slotje langzaam naar voren draait. Maar kan ook andersom gedragen worden doordat de hanger een sluiting heeft die open en dicht geklikt kan worden. Verder is het merk in de kast van de kristal ge-etst zodat je geen vervelende hangertje eraan hebt hangen.
De sieraden schitteren mooi door het gebruik van Swarovski kristal, parels en kralen. Maar niet teveel zoals dat is met Otazu, geen statement sieraden maar mooie basics voor op werk als uiteten. Alle overige onderdelen zijn van sterling zilver dus betreft fine jewelry en geen bijoux.
Onze doelgroep is de bewuste moderne vrouw met oog voor detail.