Briefing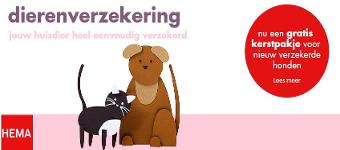 Campaign expectations
Bij het afsluiten van een HEMA dierenverzekering krijg je nu een gratis kerst onesie voor je hond! Hoe tof is het om met het hele gezin, inclusief hond, in dezelfde (kerst) onesie Kerst te vieren of een toffe kerstkaart te sturen met het hele gezin in dezelfde outfit. Sluit een dierenverzekering af voor je hond voor deze kerst en tover je hond om tot een rendier.
Met de dierenverzekering van HEMA is jouw hond of kat goed en betaalbaar verzekerd bij een bezoek aan de dierenarts. Zo kun je jouw trouwe beestje alle zorg en aandacht geven. Een hele geruststelling!
Pitch met jouw idee voor een tof artikel met als doel: zoveel mogelijk nieuwe mensen die bij Hema de huisdier verzekering afsluiten. Het is ook een optie om een winactie op te zetten waarbij jij als influencer een of meerdere honden-onesie's mag verloten.
Het is belangrijk dat niet alleen de onesie naar voren komt maar met name onze verzekering voor honden.