Briefing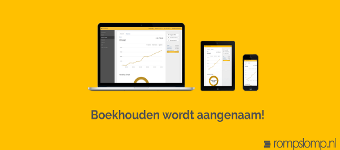 Company description
Rompslomp is hét meest eenvoudige boekhoudprogramma voor zzp'ers. Of je nu bouwvakker, grafisch vormgever of internet ondernemer bent, met het super simpele zzp boekhoudprogramma Rompslomp wordt het maken van facturen en het online boekhouden een stuk leuker en overzichtelijker.
Rompslomp is geen traditioneel administratieprogramma, het werkt namelijk veel eenvoudiger dan andere boekhoudsoftware, zeker voor zzp'ers / eenmanszaken, maar ook B.V.'s, (sport)verenigingen en stichtingen doen hun boekhouding met Rompslomp. Bij Rompslomp hoef je je niet bezig te houden met grootboekrekeningen en andere boekhoudtermen, wij doen dit voor je.
Maak een factuur met je eigen logo die meteen in je boekhouding verwerkt wordt, of scan met onze Android of iPhone / iPad app je bonnetje en stop het in de "schoenendoos", waarna je het als je BTW aangifte moet gaan doen in een handomdraai verwerkt. Rompslomp is naast dat het altijd gewoon op je laptop werkt, ook beschikbaar als Android en iPhone of iPad app. Voortaan heb je je factuur al verstuurd, als je bij je klant de deur uitloopt!