Briefing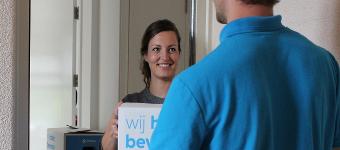 Campaign expectations
Inbox Storage biedt opslagruimte: simpel en overzichtelijk. Wij halen de spullen bij je thuis op, bewaren ze voor je, en brengen ze bij je terug zodra je ze weer nodig hebt.
Ondertussen heb jij 24/7 overzicht via de web-app. Plan een extra brengafspraak om spullen terug te laten brengen die je even weer nodig hebt (denk aan skispullen), en gebruik ons als berging in je broekzak. Nooit meer naar je stoffige self storage box of nadenken over vervoer. Gewoon selecteren wat je nodig hebt en je brengafspraak plannen. Dit filmpje legt het heel eenvoudig uit.
Wij zijn op zoek naar publishers om ons product te testen en er een verhaal over te schrijven. Hiervoor krijg je €375,- aan opslagruimte: goed voor 3 maanden een opslagruimte ter grootte van een bergingshok. Ga jij binnenkort verhuizen of verbouwen? Heb je een opslagruimte waarin je het overzicht kwijt bent, en wil je graag besparen of meer overzicht? Of wil je je bergingshok graag omtoveren tot thuiskantoor? Dan zijn we op zoek naar jou.
Voorgestelde invalshoeken:
Maak van je rommelkamer een thuiskantoor
Stap over van je huidige aanbieder opslagruimte en krijg meer overzicht in je opgeslagen spullen
Het gemak van Inbox Storage vergeleken met klassieke self storage
Bij een verhuizing: ook als je "direct" van a naar b gaat, kunnen we hier een verhaal van maken. We vervoeren dan gewoon je spullen naar het nieuwe adres, in plaats van de tussenstop van opslagruimte te maken. Bekijk bijvoorbeeld hoe dat met Anic van Wonderen ging.