Briefing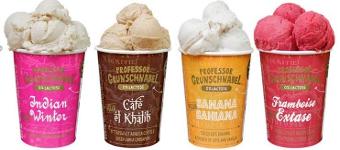 Wie is Professor Grunschnabel?
Professor Grunschnabel is de ontdekker en uitvinder van het ijsmerk. Deze flamboyante avonturier reist al jarenlang de wereld rond en komt tijdens zijn reizen steeds weer nieuwe bijzondere ingredienten tegen. Zo zijn er inmiddels 9 bijzondere ijssmaken ontstaan, met inspiratie van over de hele wereld.
De smaak
Door de vele reizen over de wereld, zijn de verschillende smaken ijs heel bijzonder. Van ' Pure coconut with Madagascar bourbon-vanilla' tot 'Bittersweet Arabica coffee and green Lanka Cardamon'. Op https://grunschnabel.com/flavours.php kun je de smaken bekijken.
Vegan, lactose- en gluten vrij
Professor Grunschnabel ijs is 100% plantaardig en bevat dus geen dierlijke producten zoals bijvoorbeeld koemelk of slagroom. In plaats daarvan gebruiken we kokosmelk in de creamy smaken en vers fruit in de fruity smaken. Verder is ons ijs 100% vrij van conserveringsmiddelen, synthetische geur- en smaakstoffen, e-nummers en toegevoegde kleurstoffen. Kortom superlekker ijs dat 100% vrij is van lactose, gluten, soja- en melkproducten.
Doelgroep
Professor Grunschnabel is een ijsmerk voor mensen die..:
... van lekker en bijzonder eten houden
... zichzelf niet te serieus nemen
... houden van een beetje avontuur.
...het waarderen als goed voor de wereld zorgen en goede smaak hand in hand gaan
... een tikkeltje rebels zijn
Kernwaarden Professor Grunschnabel
Cosmpolitisch
Michellin sterren niveau ijs binnen jouw handbereik
Avontuurlijk
Fris
Vrolijk
'Tongue in cheek' humor
Waar verkrijgbaar?
Professor Grunschnabel ijs is verkrijgbaar bij o.a.: