Briefing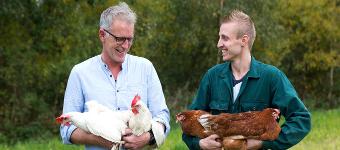 Company description
Blije Kip is het grootste merk-ei van Nederland. De eieren van Blije Kip zijn te koop bij de Albert Heijn, Plus, Vomar en Jumbo. Dierenwelzijn, natuur en milieu staan voorop bij Blije Kip. Er zijn verschillende soorten Blije Kip eieren, maar deze campagne periode leggen we de focus op onze Biologische eieren (6/10 stuks) en Witjes (8 stuks).
Onze biologische eieren zijn afkomstig van biologische kippen. De Witjes worden gelegd door vrije uitloopkippen. Beide worden ze verzorgd door Nederlandse boerenfamilies, die met liefde voor hun kippen zorgen. Zo vind je in onze Blije Kip stallen en weides verschillende speeltjes, zoals de kip-schommel, graantap, luzerne balen, boomstammen en verschillende struiken. Zo kunnen onze Blije Kippen lekker binnen en buiten spelen. Ze krijgen alle ruimte om buiten lekker wormpjes te snacken, te stofbaden en te scharrelen.
Wist je dat witte eieren gelegd worden door kippen die minder voedsel nodig hebben en daardoor minder CO2 uitstoten? De Blije Kip Witjes zijn dus een stuk milieuvriendelijker en gelukkig net zo lekker als bruine eieren. Onze Witjes en Biologische eieren zijn beide bekroond met drie sterren van het Beter Leven keurmerk. Bovendien dragen ze ook het On the Way to PlanetProof keurmerk. Daarmee willen we laten zien dat onze eieren ook door externe organisaties gezien worden als de betere eieren.
Blije Kip eieren zijn beter voor kip, mens, boer en planeet. Dat proef je!