Briefing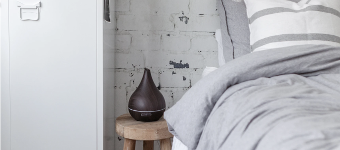 Company description
Geurwolkje is een jonge en gedreven onderneming met een duurzame missie en een duidelijke visie: Feel good, Smell good & Be happy. Geurwolkje gelooft dat ontspanning dé superpower is die mensen in staat stelt te doen wat ze willen. Ontspanning verandert alles. Het maakt ons vriendelijker, sneller, gefocust, gezonder, slimmer. Hoe helder zou de wereld zijn als we allemaal zouden ontspannen?
Onze aroma diffusers in combinatie met onze heerlijke etherische oliën kunnen voor verschillende doeleinden worden gebruikt. Met de kracht van de natuur. Heb jij last van een droge keel, verstopte neus, droge huid, hoofdpijn of rode ogen? Herken jij het koude gevoel terwijl de verwarming hoog aanstaat? Dit komt doordat de lucht in de leefruimte dan te droog is. Vooral in deze koudere maanden hebben wij hier vaak last van, niet alleen jij, ook jouw plantjes in huis! Een aroma diffuser is een apparaat wat helpt de luchtvochtigheid op peil te houden, zuivert de lucht en na het toevoegen van etherische olie aan het water krijgt de verneveling een heerlijke geur en kan je genieten van de krachten aromatherapie. Ontdek de krachten van de natuur met jouw Geurwolkje!
Maar naast het bevochtigen, kan jouw Geurwolkje de lucht ook verfrissen. Door het toevoegen van een aantal druppeltjes van een frisse etherische olie verspreidt je een heerlijke geur en sfeer. De etherische oliën werken ook weerstand ondersteunend. Zeker in deze periode is dat mooi meegenomen!