Briefing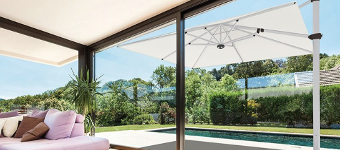 Company description
Als u aandacht besteed aan uw tuin, een mooie zit en/of eetgelegenheid heeft gecreeerd of gewoonweg op zoek bent naar wat extra schaduw in uw tuin dan kan een mooie parasol natuurlijk niet ontbreken. Parasols.nl biedt een ruim assortiment aan tuinparasols, muurparasols, zweefparasols en zelfs horecaparasols. Ook vind je bij ons de juiste onderdelen en accessoires.
Wij investeren in de kwaliteit en duurzaamheid van onze producten. Onze parasols ondergaan uitgebreide inspecties, metingen en keuringen voordat wij deze bij u in de tuin of op het terras zetten. Onze frames zijn gemaakt van aluminium, waardoor deze een hoge weerstand tegen corrosie hebben. De parasols van Solero is het eigen merk van Parasols.nl. Door onze tecnische kennis en meer dan 14 jaar ervaring weten wij wat jij als klant zoekt, wat je belangrijk vindt en hoe we onze parasols daarop kunnen laten aansluiten. daarom durven wij garantie te geven op zowel het frame (2 jaar) als de kleurvastheid van het doek (4 jaar!).
Wij begrijpen ook de aankoop van een parasol een duurzame aankoop is en vinden het daarom belangrijk dat we een goede service verlenen. Om het product nog langer mee te laten gaan ontvangt u van ons een onderhoudsadvies en een gratis beschermhoes. Onze producten zijn tevens 100% recyclebaar waardoor u (onbewust) en nog duurzamer product aanschaft.
Tevens zorgen wij voor een snelle levering en is iedereen van harte welkom in onze showroom in Best.