Briefing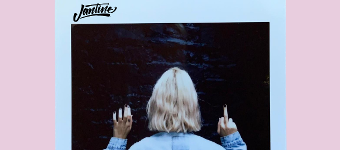 Company description
BB Music Group B.V. released niemand minder dan Jantine Heij haar single I don't give a f***. The story behind the song from Jantine's pen: I wrote this song in Los Angeles with the amazing Michael McEachern, in his home studio, high on burning sage. Sage was very much needed as my bf broke up with me the day before. I didn't feel the need to get too sentimental, but more so felt this FUCK IT I wanna LIVE kind of vibe. I mean, I was in LA, renting a super cool apartment with friends and making music with amazing people. The session with Michael really helped me to pull that switch - I had been down for too long, hadn't been myself for too long. So yea, I don't give a f*** was really everything I needed at that time.
Michael and I are both huge pop punk fans so we wanted to create a song that breathes that vibe, but in a minimal and vocal-based jacket. The song is about being in town getting hazy with friends. Actually it is mainly about trying super hard not to think about "him", about having your mind at zero, doing whatever you feel and what feels right RIGHT NOW, and not worrying about consequences. And yea there's a perfect way to achieve that: getting with a random hottie who you can give zero fucks with together.
Haar biografie: Jantine is a UK-based multi-platinum & award-winning songwriter/singer/producer/artist from The Netherlands. She signed to Sony Music Publishing in 2019 and has worked with a variety of artists including Skrillex, Ryan Lewis, Alison Wonderland and Hardwell; Andrew Goldstein, Natt Dunn and Ferras are some of her more frequent collaborators.
She's also worked in the K-pop world, with cuts for Monsta X, SHINee and NCT127. With the latter release, she reached #1 in the Billboard Charts, with over 200,000 physical sales worldwide.
As a vocalist, she has gained over 80 million Spotify streams and had airplay on BBC1 and SiriusXM. As a writer, she has racked up over 200 million Spotify streams and won a BUMA Award for her contribution to Dutch pop music. Her recent releases include the captivating 'Dwell' by Odette, and the light-hearted 'NobodyElse'byMonstaX. Herrecentcollaboration'NeverBeTheSame'withWizGhasbeennamed SiriusXM's BPM Breaker in April 2021 and has been on high rotation ever since.
In early 2020, she moved to the UK to set up a creative hub with her writing partner, Ed Graves. They work out of Rainbow Wood Studios in Bath, in close collaboration with Real World Studios. Despite the current climate, they regularly have artists visiting the studio for sessions, development, and full productions. Usually working between the UK, Los Angeles, Australia, China, South Korea and more, Jantine can't wait to get back to normal life and travel the world with one mission: to create beautiful songs.