Briefing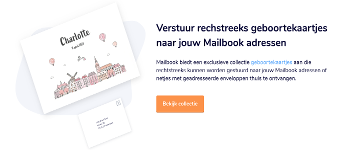 Company description
Uit nood geboren! De eeuwige struggle om al je adressen te verzamelen als je die nodig hebt voor bijvoorbeeld geboortekaartjes of een huwelijk. Vaders is spe hebben daarom Mailbook gemaakt: de tool om vlot en eenvoudig je adressen te verzamelen bij vrienden, familie en kennissen.
Met Mailbook is dat een stuk makkelijker gemaakt. Mailbook is een gratis tool die je helpt met het verzamelen van de adressen van vrienden en familie. Na het registreren ontvang je een persoonlijke link die jij (en je partner) verspreiden via Whatsapp, Messenger of e-mail, waarbij de ontvanger wordt gevraagd om zijn/haar adres toe te voegen. Alle adressen verschijnen vervolgens in jouw persoonlijke Mailbook adressenlijst, en zijn gemakkelijk weer te downloaden om te gebruiken bij het versturen van jou geboortekaartjes.
We hebben een nieuwe dienst op ons platcorm: je kunt vanaf nu geboortekaartjes sturen, direct vanuit mailbook. Mailbook is uniek omdat je rechtstreeks naar al jouw Mailbook adressen geboortekaartjes kunt laten sturen. Enveloppen worden door ons netjes van adres voorzien.Vind je het fijn om zelf het op de post te doen? Dan kan er ook voor kiezen om alle kaarten en geaddreseerde enveloppen eerst bij je thuis te ontvangen. En daarnaast bieden wij de mooiste ontwerpen van Nederlands' beste design studio's, premium drukwerk en persoonlijke service tijdens het bestel proces.
Je kunt een van onze design kaartjes kiezen maar ook personaliseren door een foto toe te voegen of je eigen ontwerp te uploaden. Eerst ontvang je een digitale proefdruk, vervolgs eentje in print en na akkoord kun je je bestelling plaatsen.