Briefing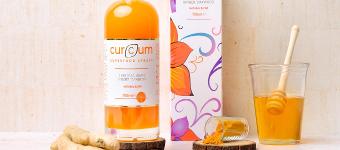 Company description
Laat je zintuigen prikkelen! Maak van elke drank een origineel geur-en-smaak wonder! HET geheime ingrediënt in al je creatieve ontbijt, lunch, kook of bakrecepten!
CURCUM is een totally vegan agave siroop met extracten van Kurkuma, Gember, Eikenhout en een klein Madame Jeanette pepertje voor een tinteling van je zintuigen. Mmmmm!
Mix het met bruiswater, warm water of voeg het toe aan cocktails/mocktails, thee, latte's, smoothies, desserts of allerlei andere kook en bak recepten. Kortom de mogelijkheden zijn eindeloos!
Het product is sojavrij, glutenvrij, zuivelvrij, non-gmo en wordt geleverd in een prachtige fles met geschenkverpakking dus ook ideaal als cadeau.