Briefing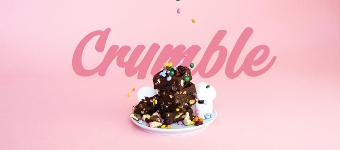 A bake it yourself bakbox! Wij zijn Crumble. Wij verkopen bakboxen waarbij er niets ontbreekt. Of je nou elke week in de keuken staat of nog nooit meer dan een alleen-water-toevoegen brownie hebt gemaakt, met Crumble kan iedereen wat lekkers bakken. Geen stress van een ellenlange boodschappenlijst en een onmogelijk recept, bij ons bestel je een box waar alle ingrediënten afgewogen in zitten.
Onze medewerkers wegen de ingrediënten zorgvuldig voor je af. Van de bloem tot aan het snufje zout. Dit maakt dat je geen afweegfoutjes kan maken, en jouw aanrecht zo netjes blijft dat Robèrt van Beckhoven onder de indruk zou zijn. Alle ingrediënten gaan in zijn geheel in je recept, dus geen verspilling of potjes vanille-extract die jaren in je kasten blijven verstoffen!
Mensen die geen oven hebben, denken meestal dat ze niet kunnen bakken. Maar iedereen kan bakken met Crumble! Zelfs als je geen oven hebt. We hebben een aantal no-bake recepten. Als je apparatuur nodig hebt om een recept te maken, zoals een mixer, staat dat duidelijk bij het recept vermeld.
We doen ons best om van zoveel mogelijk recepten een vegan, glutenvrije en/of lactosevrije variant te maken. We weten namelijk dat juist deze doelgroep soms moeite heeft om de juiste ingrediënten aan te schaffen! Van chocoladetaart tot notenrotsjes en van red velvet cupcakes tot lemon bars. De lekkerste recepten vind je bij Crumble.