Briefing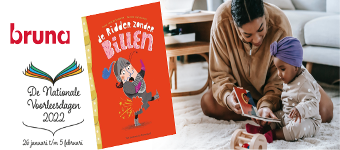 Company description
De Nationale Voorleesdagen (26 jan t/m 5 feb 2022) is een CPNB campagne. Het is het grootste boekenfeest voor kinderen van 0 tot 6 jaar.
Van kinderboeken krijg je eigenlijk nooit genoeg: van het voorleesverhaaltje voor het slapengaan tot het spannende boek onder je kussen. Of je nu op zoek bent naar klassiekers zoals de kinderboeken van Annie M.G. Schmidt of Roald Dahl óf als je juist de nieuwste Harry Potter zoekt, je vindt ze hier allemaal. Leuke kinderboeken koop je bij Bruna. Wij hebben een grote collectie piraten- en prinsessen boeken in ons assortiment, voorleesboeken voor de allerkleinsten en boeken voor begrijpend lezen. Net als knutselboeken, weetjesboeken, prentenboeken, voorleesboeken, stripboeken, rijmpjes, sprookjesboeken en nog veel meer. Oftewel een groot assortiment kinderboeken voor alle leeftijden.
Samen met bloggers die affiniteit hebben met kinderen en/of boeken/voorlezen zouden we graag ons bereik én traffic naar onze (online) winkel omtrent kinderboeken willen vergroten. Bruna is gesloten, maar vanaf volgende week hopelijk weer open. Álle boeken zijn op reservering af te halen in de winkel of online aan te schaffen en te ontvangen via thuisbezorging.