Briefing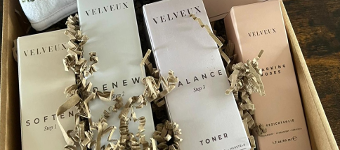 Wij van Velveux gaan veel dieper dan alleen uiterlijk. We zijn spiritueel ingesteld en proberen mee te geven dat we ons niet zo moeten laten misleiden door de perfectie triggers die we zien op social media. We proberen dames ervan bewust te maken dat we allemaal van nature een prachtige creatie zijn en dat we dat moeten koesteren, waarderen en er trots op moeten zijn.
Iedere dame heeft van nature een bepaalde innerlijke energie, alleen niet iedereen is zich daaarvan bewust en moet dat nog ontdekken. deze innerlike energie straalt aantrekkingskracht, zelfvertrouwen en geluk uit.
Velveux helpt je deze energie/natuurlijke glow te ontdekken met een volledig vegan skincare routine gecombineerd met deze zojuist benoemde filosofie. Onze producten bevatten volledig natuurlijke ingredienten die ofwel biologisch ofwel in het wild, buiten vervuilde gebieden zijn geoogst. Door deze bovengenoemde uitleg is de slogan "Discover your natural glow" ontstaan. Heb jij je Natural Glow al gevonden?
4 step skincare routine
In deze campagne staat de 4 step skincare routine centraal. Deze zijn gemaakt met milde, natuurlijke ingrediënten (100% vegan). De producten helpen tegen pigmentvlekken, rimpels, droge plekken, acne-littekens en oneffenheden en zorgt voor een egale en stralende huid. De 4 step skincare routine bestaat uit:
Oil Cleanser
Foam Cleanser
Toner
Roses Face Oil
Campaign application
Do you want to join this campaign? Log in or sign up and apply straight away!