Briefing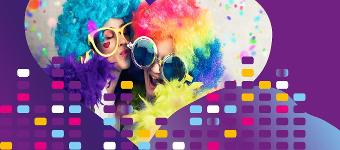 Wij zijn carnavalsfan.nl: het grootste carnavalsplatform van Nederland. Nieuws rondom carnaval werd erg regionaal en provinciaal gebracht. Dát terwijl we in het hele land fan zijn van hetzelfde feestje en de socials dragen er alleen maar meer aan bij dat we met elkaar in verbinding staan. Carnaval ademt dat begrip.
Vanuit die gedachte brengen wij carnavalsnieuws en – inspiratie, ofwel: vette carnavalscontent. Voor het eerst landelijk en niet alleen voor, maar ook dóór fans. Wij verbinden carnavalvierend Nederland met het motto #liefdevoordatfeest. Dit jaar wederom online, door een grootse "Digitale Optocht" op de homepage.
Helaas is alles dit jaar alwéér allemaal onzeker, maar wij houden de moed erin. Ga jij carnaval vieren? Zittend in de kroeg, thuis of online of missschien toch wel ouderwets, als het allemaal weer mag?