Briefing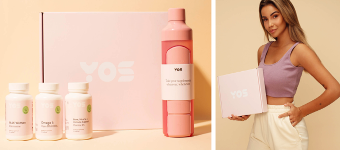 Wij zijn YOS Health en samen met Monica Geuze hebben wij een premium supplementen en vitaminen lijn opgezet speciaal voor vrouwen. Met onze verschillende supplementen streven wij ernaar om een gezond leven gemakkelijker, leuker en belangrijker te maken. YOS Health focust zich op vrouwen die een gezonde levensstijl leeft of wilt gaan leven.
Gezond leven mag wat ons betreft vooral niet te ingewikkeld zijn. Daarom bundelden wij onze formules in drie complete sets (genoeg voor ± 2 maanden en inclusief gratis YOS Bottle Daily – Roze t.w.v. €14,95):
Daily Essentials Set - Multi Woman, Omega 3 en Bone, Muscle + Immune Support (vegan)
Jouw dagelijkse aanvulling op maat. Onze Daily Essentials set bevat een combinatie van multivitamines, vitamine D en Omega 3. Deze Daily Essentials set bevat B-vitaminen die je natuurlijke energie activeren, vetzuren (EPA en DHA) voor het hart*, en vitamine D dat je immuunsysteem ondersteunt. Do we need to say more?
Feel Good Set - Multi Woman, Energy + Balance en Muscle Support (vegan)
Jouw gezondheid is je basis en luisteren naar je lichaam is daarbij ontzettend belangrijk. Onze Feel Good set voorziet jouw lijf van kracht en energie. De unieke combinatie van effectieve vitamines, Magnesium en B12 Complex gaan vermoeidheid tegen en dragen bovendien bij aan gezonde state-of-mind.
Beauty Essentials Set - Inner Beauty, Happy Hair en Antioxidant
Schoonheid begint van binnen. Cliché but true! Met een zorgvuldig samengestelde combinatie van Collageen, Hair Complex en Antioxidanten, versterkt onze Beauty Essentials set jouw lichaam van binnenuit. In één complete set, dus makkelijk in gebruik.