Briefing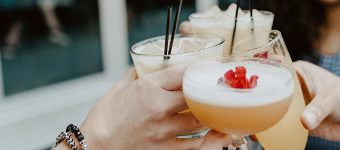 Cocktails-Thuis is een webshop voor (je raad het al) cocktails om lekker thuis van te genieten. Wij zijn deze webshop begonnen om de passie en liefde voor cocktails te delen. Wij geloven dat ieder moment een moment is om van cocktails te genieten. Maar begrijpen dat niet iedereen zin of tijd heeft om het thuis te (leren) maken. Daarom hebben wij onze voorgemixte cocktails, mocktails en gin tonics. Simpelweg om gewoon lekker van te genieten.
Wij zijn begonnen in november 2021, in de tijd dat wij helaas niet meer het café in mochten tot 's avonds laat. Dus dachten wij, waarom is het toch zoveel werk om te genieten van cocktails thuis? En daarom zijn wij aan de slag gegaan om heerlijke cocktails te maken. En makkelijk te verzenden via de post.
Wij zijn gevestigd in de Spaanse polder in Rotterdam, daarom bieden wij in de omgeving bezorging op de zelfde dag aan. Zodat je tot 12:00 kan bedenken of je vanavond lekker cocktails wilt gaan drinken, alleen of gezellig met je vrienden.