Briefing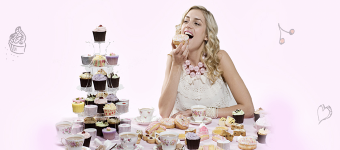 Bij gefeliciTAART.nl kan je voor elk viermoment een lekkere traktatie bestellen! Een succeswens, bedankje, geboorte, felicitatie of relatiegeschenk, met de taarten van gefeliciTAART maak je elk feestje compleet! Bestel vanaf je werkplek of vanuit je luie stoel eenvoudig de lekkerste taarten en laat ze eenvoudig bij iedereen in Nederland bezorgen.
In de landelijke taarten test van het Algemeen Dagblad hebben we de hoogste score gehaald. Met maar liefst een 9,3 staan we op de eerste plek! Onze taart werd als volgt beschreven:
"Aan het gebak van gefelicitaart.nl valt echter niet te tippen. De afwerking is aandachtig, het gebak luchtig en de slagroomsmaak perfect gebalanceerd."
Wat onze taarten uniek maakt is onder andere de foto die geprint is op witte chocolade. Ben je benieuwd naar de rest van de beoordeling, lees hier het hele artikel over de taarten test.